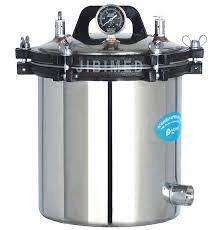 PORTABLE AUTOCLAVE AUT41-24.
Portable Autoclave is used for general purpose sterilization. Saturated steam is used to sterilize articles rapidly and efficiently. It is also used as a cooker in plateau areas and also for making high quality drinking water in Drinking Water Plant.
Used in Medical, Research Institutions, Laboratory, Drinking Water Plant, Food industry, Hospital, Agriculture, Hospital, Scientific Research.
Also known as Portable Sterilizer, Steam Autoclave Sterilizer, Portable Autoclave, Pressure Steam Sterilizer, Portable Pressure Steam Sterilizer, Dental Autoclave
SPECIFICATIONS
| | |
| --- | --- |
| Capacity | 24 L |
| Function | Electric or LPG heated. |
| Sterilization Temperature | 126°C |
| Working Pressure | 0.14-0.16 Mpa |
| Maximum Working Pressure | 0.165 Mpa |
| Chamber Dimension | 280x390mm |
| Overall Dimension (LxWxH) | 410x410x550 mm |
| Chamber Material | Stainless Steel |
| Weight | 15/17 kg |
| Power | 2 KW |
| Power Supply | 220 V, 50 Hz |