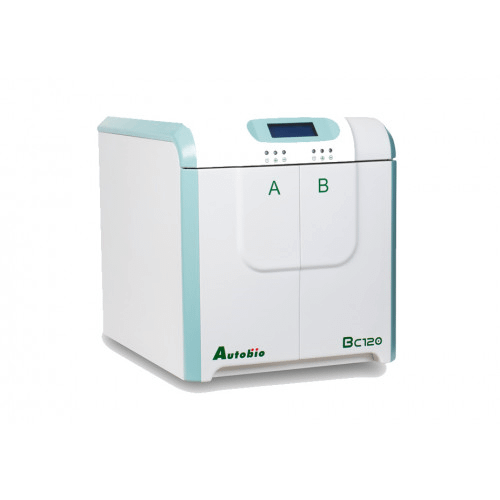 The Automated BC120 Blood Culture system uses cutting-edge non-invasive and visualization technology along with a special optical detection system to fully automate blood culture testing. Its dependable vibrating model and stable temperature control system also significantly reduce the rate of false positives.
The Autobio BC 120 automated blood culture device entirely automates blood testing through the use of cutting-edge non-invasive, visual control technology. The strong vibration model and temperature management system drastically cut down on false positives and the amount of time it takes to detect positive findings.
A capacity of 120 bottles is provided by 2 incubators with 60 cells. The minimum detection period for a positive sample is three hours, with continuous detection occurring every ten minutes.
Features
Advanced detection system

High precision temperature control system ensures stable incubation temperature.

Non-invasive detection system reduces pollution and ensures accurate results.

Continuous detection every 10 mins, minimum positive sample detection time is 3 hours.

Easy to operate, only need 3 steps: click-scan-load
Result interpretation mode.

Acceleration mode used in the initial stage of bacterial growth shortens detection time.

Efficiency mode used in the medium stage of bacterial growth depress error rate.

Threshold interpretation mode affords excellent deferred entry function.