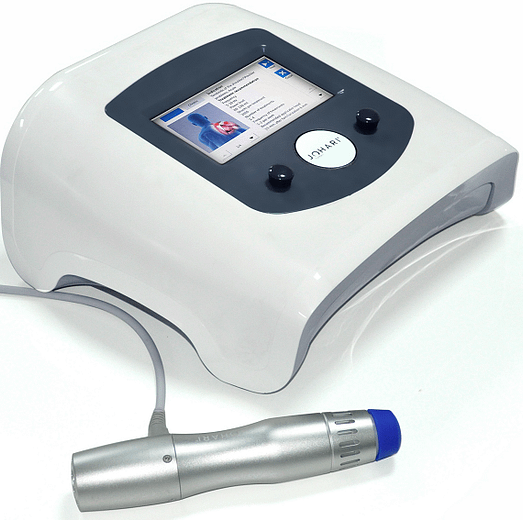 Using a shockwave therapy device to treat subacute, subchronic, and chronic pain disorders all throughout the body is highly successful. It induces regeneration in selected tissues, including the muscles and bones, and is a form of acoustic wave. A safe, focused way for medical experts to take use of the phenomenon is using shockwave therapy devices.
High-energy acoustic waves released by Blast-Medwave interact with tissues to reduce pain and improve mobility. Additionally, it aids in the synthesis of collagen and the growth of new blood vessels.
The hand piece contains a projectile that is propelled forward via electromagnetic kinetic energy transfer. The applicator head subsequently converts this kinetic energy into impact energy. Radial pulses are produced in the target tissue as a result of the impact energy delivered by the applicator head.
   No Air Compressor
   Electromagnetic Energy Transfer
   Well balanced and ergonomic design
   Integrated with best quality aluminium
Blast-Medwave works by emitting high energy pulses. These pulses of acoustic energy are focused on the target tissues by the hand piece of the shockwave therapy machine and are believed to cause localized micro trauma that stimulates the bodies natural healing processes.
  7 preset protocols ; can be customized.
  Marked treatment area & pain with trigger point.
  7″ Inch Color and Touch Screen Display.
  Flexible shockwave transmitters
  Foot Switch Trigger for easy operations
  Comfortable and short treatment time
  Non invasive therapy & No side effects
Effects in Physical Medicine
Blast-Medwave device has a non-invasive treatment that involves creating a series of high energy acoustic wave pulsations that are directly applied to an injury through a person's skin via a gel medium. It's main assets are fast pain relief and mobility restoration. Other applications include:
   Reduce muscular pain
   Temporarily increase blood flow
   Activate connective tissue
   Chronic and Sub Chronic Pain
   Acute and Sub Acute Pain
   Stimulate Collagen Production
Shockwave Therapy creates unique pulses by using a projectile 5 times heavier than the standard air-pressure systems when comes in contact with the applicator. Its small applicator allows energy to be concentrated directly on the selected area to be treated. Comprehensive comparative tests in the laboratory have demonstrated that Johari's Shockwave with equivalent energy settings releases kinetic energy via applicator comparable to that of a compressed-air-driven system, in which the air pressure applied to accelerate the projectile dosage
| | |
| --- | --- |
| Shockwave Energy Dose | Compressed-air pressure |
| 35 mJ | 1 bar |
| 75 mJ | 2 bar |
| 110 mJ | 3 bar |
| 185 mJ | 5 bar |
Technical Specifications
Technology
Ballistic radial shockwave therapy system
Energy Generator
Compressor free Electromagnetic Generator
Power Level / Energy
10 to 185 mJ (equivalent to 1- 5 bar)
Frequency
1 – 22 Hz
Therapy Modes
Continuous and Burst
Preset Programs
7 Preset Programs
Encyclopedia
Yes with Body Parts Images
Custom Program
Yes
User Interface
7″ Inch Color Touch Screen
Controls
Hand Piece and Foot Switch
Applicator Heads
6 / 15 / 25mm
Service Life
4,000,000 shots per hand-piece
3,00,000 shots per head
Dimension
Gross Weight
8 Kilograms
Mains Supply
120-240 Volts AC
Safety Class
Class I