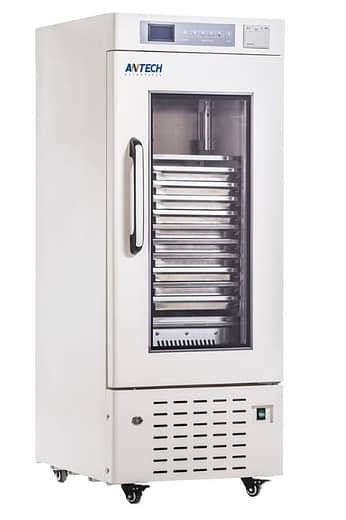 Blood Bank Refrigerator MBR-208
Microprocessor control and digital display ensures the inside temperature at 4±1 ℃ with 0.1 ℃ resolution Multiple sensors placing inside the liquid-loaded monitor bottles, simulating blood bag, constantly monitor the temperature inside. Multi air-flow plenum system ensures excellent temperature uniformity Auto-defrost.
Other Features
Reliability:
Transparent Inner doors minimize the air leakage during door open Foaming insulation door with double-layer glass and magnetic seals decrease air leakage Large air circulation fan enables rapid temperature recovery after door open Electrical heater prevents condensation on glass door
Ergonomic Design:
Stainless steel interior anti-rust, anti-corrosion Epoxy coated exterior anti-bacteria, easy cleaning Shelf adjustable Lockable caster for easy moving and stop Interior LED light Self-close door Stop structure design prevents door close if opened over 90℃ Environment friendly refrigerant: CFC-Free and HCFC-Free.
Safety:
Password protection prevents unauthorized setting Safety lock prevents unauthorized access Alarm styles: buzzing and light flashing Power failure protection Start delay function protects the equipment from overload when power resume
Specification
Cabinet Type Capacity (L) Ambinet temperature (℃) Cooling Type Defrost Mode Refrigerant Door Electrical Heater Noise (dB) Temperature Range (℃) Temperature Control Display Interior Exterior Power Supply(V/Hz) Power (W) Blood Storage Capacity (450ml Blood Bags) Net/Gross Weight (kg) Internal Dimension (W/D/H, mm) External Dimension(W/D/H, mm) Packing Dimension(W/D/H, mm) Container Load (20'/40'/40'H) High/low Temperature Alarm Power Failure Alarm High/low Voltage Alarm Sensor Error Alarm Low Battery Alarm Door Ajar Alarm Door Lock Caster Test Hole Shelf/Basket Chart Recorder Data Logger Certificate
Upright 208 10~32 Forced Air Cooling Auto CFC-Free Single Glass Door Y 42 4±1 Microprocessor LED Stainless Steel Power Coated Steel 220~240/50~60 200
130
67/75 432×462×978 522×600×1550 572x685x1570 33/68/68 Y Y Y Y Y Y Y 4 Y 4/12 N/A Optional CE, ISO9001