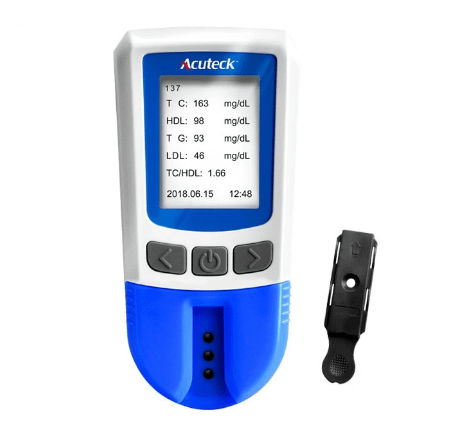 Provides high quality and reliable results for complete Lipid Panel testing in =2 min.

3 in 1 complete Lipid Panel device tests for Total Cholesterol (CHOL), High Density Lipoprotein (HDL) and Triglycerides (TRIG)

Also includes calculated tests:
Low Density Lipoprotein (LDL), CHOL/HDL ratio and Cardiac Risk Assessment



Reliable
– can test whole blood, serum or plasma
– wide hematocrit range of 0-50%
– small printer available for immediate printing of results

Easy to use
– large LCD display for easy reading
– colour coded test devices with engraved test name for easy identification

Supplied with 2 control devices, 4 batteries, carrying case and manual (GB, IT).
Available FR,ES, DE, PT manual in www.gimaitaly.com
Multilingual box: GB, FR, IT, ES, DE, PT, PL, SE, FI, GR, NL, RO, BG, RU, SA.
Technical Specifications
Detection principle: Reflectance Photometry
Time to results: = 2 minutes
Memory with date/time: 200 results
Type of test: Quantitative
Tests: CHOL, HDL, TRIG
Calculated tests: LDL, CHOL/HDL ratio, Cardiac Risk Assessment
Specimen volume: 3-1 Lipid Panel Device: 35 µL, CHOL Individual Test Device: 10 µL
Measurement units: mg/dL or mmol/L
Measurement range:
– CHOL: 100-500 mg/dL (2.59-12.93 mmol/L)
– HDL: 15-100 mg/dL (0.39-2.59 mmol/L)
– TRIG: 45-650 mg/dL (0.51-7.34 mmol/L)
Pc interface for data transfer: Mini USB Port
Calibration: Code Chip