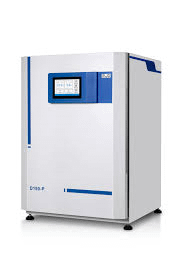 For many eukaryotic cell culture experiments, the D180-P air jacket CO2 incubator is utilized to grow and maintain tissue cultures and cell cultures. It is perfect for primary cells, common cell lines, stem cells, and embryos.
It is more dependable because it combines six-side air jacket heating technology with an accurate temperature and carbon dioxide concentration control system. A touchscreen controller with a curved display and automatic data recording for 7 days makes it possible for lab staff to conduct cell culture research successfully.
Additionally, the high-temperature sterilization at 140°C may get rid of any microbiological contamination, even heat-resistant bacillus.
Features & Benefits
Purity
Utilize the 140°C dry-heat sterilization program to reduce the chance of microorganism contamination while still efficiently maintaining the cleanliness of the internal atmosphere.
The interior atmosphere is both cleaner and more uniform thanks to the HEPA (High-Efficiency Particulate Air filter) and active air circulation system combo. Every minute, the HEPA filters the air in the chamber, bringing it within five minutes to a Class 100 level.
The interior is constructed of stainless steel that contains copper and has rounded corners for both easy cleaning and high bacterial resistance.

Stability
The time to target temperature is greatly decreased by the six-sided air jacket heating technique.
Compared to the TC sensor, the non-dispersive infrared sensor for carbon dioxide detection has a low drift rate and is quite accurate. 
Intelligence
The 7-inch touchscreen displays all the information and interactions, including temperature, CO2 concentration, operation log, and alarm records.
The 7-day changes in the incubator may be automatically tracked and shown in the curve. A USB drive can export data that is older than seven days and up to six months.
Safety
Users can change the maximum and lower alarm limitations thanks to customizable alarm settings.
Multiple system warnings can prevent the equipment from operating abnormally, protecting both personnel and priceless samples.
Temperature
Control & Range
±0.1℃, 5°C above ambient to 50°C
Heating Method
Air jacket
Uniformity
±0.3℃ @ 37℃
Alarm Setting
±5°C
Sensor
Platinum thermistor
Controller
PID
Readability & Setability
0.1℃
Sterilization Method
140℃ dry heat sterilization
CO2 Concentration
Control & Range
Better than ±0.1% ; 0-20%
Sensor
Heat-resistant infrared (IR) sensor
Inlet Pressure
1.0 bar (recommended)
Uniformity
±0.3%
Readability & Setability
0.10%
Alarm Setting
±1%
 

 

Humidity

Humidity Pan Volume
~3.8 L
Display
1% RH
Shelves
Dimensions
47.0×47.0 cm
Surface Area (Standard & Max)
214. 6 cm2 ; 220.7 cm2
Number (Standard & Max)
3 ; 16
 

 

 

Size & Weight

Interior Volume
175 L
Interior Dimensions
51.0 (W) ×54.7 (D) ×67.5 (H) cm
Exterior Dimensions
66.0 (W) ×67.0 (D) ×97.0 (H) cm
Net Weight
110 kg (242.5 lbs)