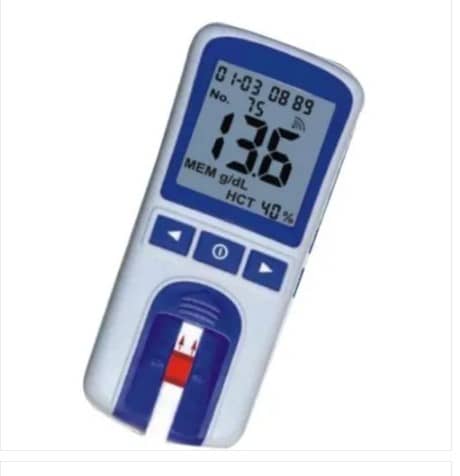 Product Description
Digital Haemoglobin Meter 
Mission® Hb – Digital Hb Testing System
This is Digital Meter used for testing Hemoglobin on spot with 100% Accuracy within 15 seconds with only 10 ul of Blood sample of Venous or, Capillary Blood. It is Quick , Reliable ,Easy and Portable to use at bedside of Patients as Point of care Product. 
The Salient Features are:
"Mission® Hb accurately detects both Hb and Hct levels.
Quick:
Simply insert Strips, apply Blood specimen and read results.
Auto Calibration for added convenience.
No specimen preparation required.
Low Maintenance and quick clean up.
Accurate:
Precise result equivalent to Automatic Hematology Analyser.
Only a single drop of fingertip Blood- 10 ul Sample volume required.
Wide Hb measurement range of 5-25.6 g/dl with Hct range of 15-75%.
Portable:
Operated by Battery or, Optional AC Adapter.
Small and handled for immediate Diagnosis.
Ready to use in any Point of Care setting.
Dry Strips hence easy to carry anywhere.
Convenient: 
Can test Capillary and venous whole Blood.
Minimum Training required.
Easy to use large LCD.
Quick data Transfer via USB Port ( Option) provided.
Strips for digital HB – Meter for Mission® HB – Strips :
Special Strips for digital HB- Meter and Haematocrit both with a Single Strips a better option for every Gynaecologists & Obstetrics at no additional Cost.
Product Specification
| | |
| --- | --- |
| Sample Mode | Whole Blood, Capillary |
| Sample Volume | 10 Micro Litre |
| Calibration | Auto Calibration by Code Chip |
| Measuring Range | 5 -25 gm/dl |
| Measuring Time | <15 sec |
| Memory | 1000 Test Results |