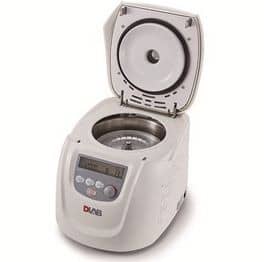 Hematocrit Centrifuge – DM1424
Clinical Centrifuge, including A12-10P rotor and both adapter A10P15&A10P15 plug(package contain in the box)
DLAB hematocrit centrifuge with AC24P hematocrit rotor is used for determination of volume fractions of erythrocytes in blood
for diagnostic purposes and doping tests. Also it is used for the photometric determination of bilirubin content in neonate blood
samples. Hematocrit centrifuge with A24-2P tube rotor, can be used for extraction of DNA and RNA.
 Features:
• Speed range of 200-14000rpm, max. RCF 18620×g
• Precise control of speed and time separately
• Easy operation with intuitive menu and easy-to-read display
• Maintenance-free brushless DC motors
• Pulse operation for quick spins
• Rotor capacity: Hematocrit rotor:
• Hematocrit rotor:24 capillary max. speed:12000rpm
• Tube rotor: 1.5/2mL×24 max. speed: 14000rpm
SPECIFICATIONS:
 Specifications
DM1424
Speed Range
200-14000rpm,
increment: 10rpm
Max. RCF
18620×g
Speed Accuracy
±20 rpm
Rotor Capacity
2 type
Run Time
30sec-99min/Continuous
Motor
Brushless DC moto
Display
LCD
Safety Devices
Door interlock,Overspeed detector;Over-temperature detector, Automatic internal diagnosis, Automatic rotor identification
Power
Single-phase,
220V-240V,50Hz/60Hz, 5A;110V-120V,50Hz/60Hz, 5A
500W
Acceleration
/Braking time [Sec]
30s↑30s↓
Dimension [D×W×H]
280×364×274mm
Weight
10kg
Certification
CE cTÜVus FCC MCA
Advanced Features
Speed/RCF switch; Short-time run function; sound-alert function