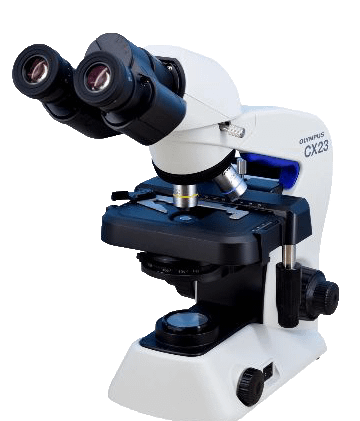 The CX43 microscope is made for individuals who spend a lot of time staring through the lens. Its great ergonomic design places all the controls within easy reach. Users may easily operate the stage and focus with one hand while placing a slide on the stage with the other.
Changing the target, focusing, and moving the stage are all common actions that can be performed with little manual labor from the user. This reduces any repetitive strain and makes using the microscope comfortable for long periods of time.
Users may simply put and inspect specimens on the stage because the stage surface is visible from the eye point position. Just one finger can be used to turn the stage knob.
SPECIFICATIONS
| | |
| --- | --- |
| Head | Trinocular- 50:50 eyepieces:camera |
| Eyepieces | 10x FN 20 |
| Nosepiece | Quintuple |
| Objectives | Plan achromat 4x, 10x, 40x, 100x oil |
| Stage | Mechanical 211 x 154mm |
| Condenser | Abbe Condenser NA 1.25 |
| Focus Mechanism | Coarse and fine focus |
| Illumination | LED |