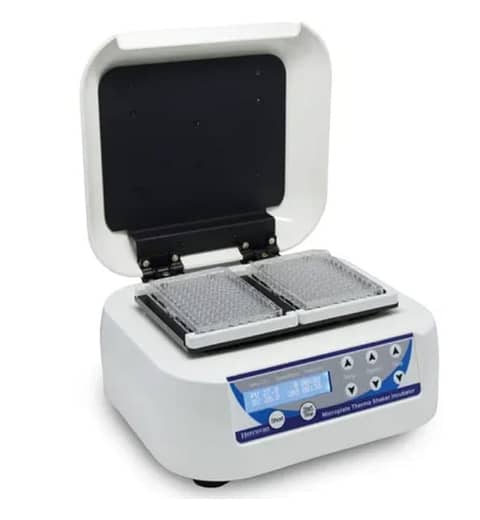 Our Microplate Shaking Incubator comes with painted stainless steel construction. The housing is rugged and ensures long lasting performance. No matter there is well plates or microtubes, you can use the smallest vessel for mixing. This microplate shaker incubator has stainless steel platform that will safely accommodate up to 4 Microplates on the non-slip mat. The sample tube racks are also available which accommodate all the common tube sizes
There are separate controls for temperature and speed which ensure precise temperature adjustment. The unit is also equipped with digital speed controller and with LED display the speed can be monitored. With timer the machine can be set from 0 to 999 minutes or continuous. When timer stops the audible alarm will alert and shaking action will stop. Temperature range is adjustable via digital control panel. The unit offers uniform temperature distribution inside the chamber.
Features:
| | |
| --- | --- |
| Accommodates up to 4 microplates | Timer 1-999 seconds |
| Adjustable speed from 200rpm to 1300rpm | RS232 computer interface |
| Accuracy of temperature control | Can be used inside safety cabinets |
| Excellent rotation stability | Digitally controlled |
Specifications:
Model
BST-MPI1300
BST-MPI1200
Capacity
Up to 4 Microplates
Up to 2 Microplates
Shaking Speed
200rpm to 1300rpm
200rpm to 1200rpm
Temperature Range
+7°C to 60°C
Shaking Mechanism
Direct Drive
Timer
0 to 999 minutes or continuous
Computer Interface
RS232
Power Supply
110 / 220 Volts
Certifications
CE and ISO
We are microplate shaker incubator manufacturer, supplier and exporter in India and supplying these systems to all over Asia, Africa and Middle East at great price. With a team of professionally talented engineers, we are also providing you customized solutions. If you need customized microplate shaking incubator, we can provide you the same with matchless quality and suitable exactly to you requirements.