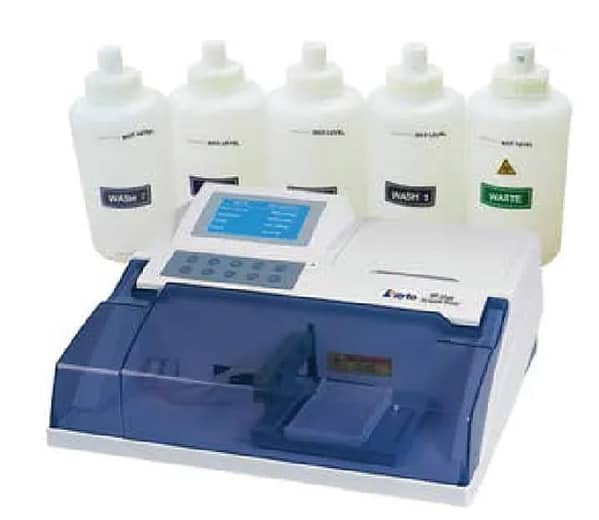 An affordable and versatile microplate washer… Rayto has been at the forefront of microplate technology since their foundation. This knowledge and experience has been used to provide a range of class-leading microplate instrumentation at affordable prices.
Features and benefits
1. Fully automated washing – improves intra and interplate reproducibility and minimises the number of failed experiments
2. Fully flexible programming – up to 100 user-defined wash protocols and 10 plate types allows wash parameters to be optimised for all assays
3. Plate shaking and bottom washing features – increased wash stringency
4. Integrated valve system allows fully automated switching between up to three wash buffers for assay flexibility
5. Washes all standard flat, round and v-bottom 96 well plates
6. Monitoring of liquid levels – prevents spillage of potentially hazardous waste and alerts users when wash buffers run out
7. Blockages are minimized via a dedicated rinse bottle and an automatic rinse cycle.
Specifications
| | |
| --- | --- |
| Dimensions (mm) | L450 x W390 x H190 (excluding bottles) |
| Net weight | 13 Kg |
| Residual volume | < 1 µl |
| Wash volume | 10 – 3,000 ml |
| Wash cycles | Up to 99 |
| Soak time | 0 – 24 hours |
| Shake time | 0 – 24 hours |
| Plate types | 96 well flat, round and v-bottom |
| Bottle capacity | 2 l |
| Supplied bottles | 3 x wash and 1 x rinse |
| Memory | 100 user-defined wash protocols, 10 plate types |
| Display | 5" LCD |
| Power supply | AC 110 / 220V ± 10%, 50 – 60 Hz |