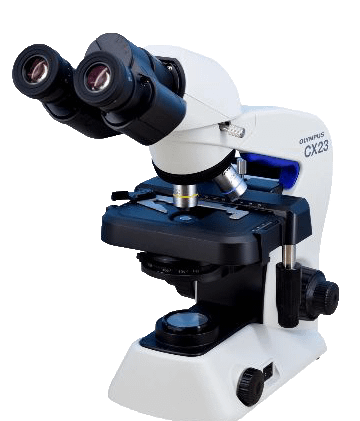 The Olympus CX23 microscope is a transmitted light microscope whose standard equipment includes a 4x nosepiece and three plan achromatic objectives for excellent image flatness and sharpness. As the nosepiece is oriented towards the back, the specimens are easier to exchange and adjust.
The binocular tube has bilateral dioptre adjustment and can be adjusted to the eye distance of the user and the eyepieces with 10x magnification provide a large field of vision (20 mm). The microscope is ideal for use as a training microscope and can be used for examinations in the medical lab.
The microscope is available in a normal standard configuration, in a standard configuration with 100x oil objective and in a standard configuration with a phototube. With the photo tube, you can attach a camera in order to document your research.
Product Details
Olympus CX23
Transmitted light microscope for bright field microscopy
With 4x nosepiece (oriented to the back)
Objectives: plan achromatic, 4x, 10x, 40x
Optional with 100x oil objective for oil immersion microscopy
All objectives have an anti fungus coating
30° tilted binocular tube
2 oculars: 10x magnification, FN 20, anti fungus coating
Eye distance adjustable between 48 – 75 mm
Bilateral dioptre adjustment
Cross table can be adjusted in height
With holder for standard specimens
Illumination: LED, 0.5 W, with reduced blue content for optimal colour reproduction
Abbe condenser, NA 1.25
Focus on the right side with coarse and fine adjustment
Coloured grip to lift and transport the microscope
Backside with compartment for the power cable
With eyelet to attach an anti-theft cord
Weight: approx. 5.9 kg
Delivery contents: microscope, power cable, protective cover, instructions for use