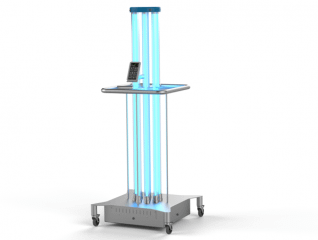 Mobile disinfection tower for medical facilities and labs
The mobile disinfection unit DT8-1500 is particularly well suited for the medical industry due to its ease of handling.
The UV-C tower is a portable, adaptable disinfection tool for surfaces and the air.
The tool was created as an addition to routine cleaning in spaces with no personnel present.
Applications
healthcare surfaces
Ceilings
Walls
electronic apparatus
mattress protector
Tables/chairs/cabinets
Production
Room Surface and Air Sterilization
The UV-C tower offers 360-degree treatment and is used to disinfect hospital rooms, production, work, and storage facilities without any human presence.
Specifications
Housing made of stainless steel
4 adjustable rollers
Protective grating uses motion sensors and automatic switch-off to ensure complete staff safety.
Strong construction: The device's low center of gravity keeps it from toppling over.
Connect the gadget, run it using a smartphone, and receive status updates and an assessment of each cleaning procedure.
The user can switch out emitters.
Benefits in a nutshell
chemical-free disinfection that works well.
Mobile stop-fixing unit.
disinfection from every angle (8 UV-C lights).
Low power usage and very affordable.
adjustable UV-C exposure time through the display.
Simple to use, with an additional remote control for start/stop.
enduring UV-C lamp
Dimensions (W x D x H)         532 x 532 x 1726 mm
Housing Material                  Stainless steel V2A
Emitter ST1                          8 x UV-C Emitter (254 nm) high efficiency  / 12.000 h
Power                                 700 W
Voltage                               230 V ±10% (50 – 60Hz)
Connection cable                 5 m; cable reel incl. Euro plug
Weight                                50 kg
Protection class                   IP 54
Operation Touch-Screen, Radio remote control
Safety Activation delay / 3D – 360 IFR motion sensors / protective grate / emitter splinter protection