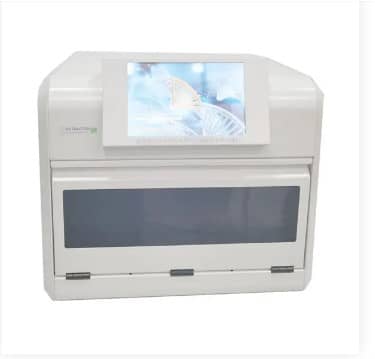 Extractor 96 Nucleic Acid
You will receive more from us if you select us rather than just goods and services. Problems and customized customization can be submitted to us. Sending us mail is the start of our success.
Based on nanoscale magnetic bead purification technology, the HBH96 Fully-Automatic Nucleic Acid Extractor combines lysis, cleaning, and elution. Equipment for extracting nucleic acids automatically, with a high level of automation, extraction speed, consistent results, ease of use, and other benefits.Whole blood, bacteria, plasmid, virus, serum-free, plant, and other materials that are frequently used in CDC, food safety, clinical testing, forensics, and other sectors can all have their nucleic acids automatically extracted. A total of 96 samples may be collected simultaneously.
0 inch Android touchscreen with a Chinese/English interface that is simple to use and responsive;
Precise control: An integrated Android operating system, wireless computer connectivity, independent operation, and a reliable automatic control system;
Scan, Quich Launch, and View Steps modes of operation; temperature control; customized lysis and elution temperatures according to needs; Fast extraction: 96 samples can be extracted simultaneously with short operating times and high throughput;
Free programming: Strong grade editing capabilities to accommodate various reagent requirements; Extraction effectiveness: The purification strategy can be improved in accordance with various reagents to increase extraction effectiveness and purity;
dependable and steady The entire process is automated to eliminate variations and mistakes brought on by manual labor, and the outcomes are reliable and repeatable;
Pollution control and prevention: Integrated UV disinfection capability that allows for disinfection
consistently to avoid cross-contamination; dependable and secure To prevent injury, the program will be momentarily suspended after the safety door is opened, and it can resume after it is closed. Open agent extraction using reagents from different suppliers;