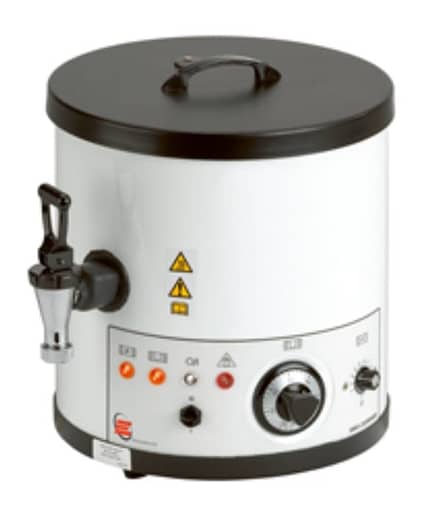 Manual dispenser CRT-MPOT-4.5L.
Thermally insulated tap heater with independent temperature control completely eliminates problem of wax solidifying at the tap. Aluminum housing with stove enameled black and white anodized interior, black metal lid, and propylene base. Thermostat and tap heater built-in. Tap is swivel lever nondrip with replaceable filter. Has power on, bath on, tap heater on, and over-temperature indicators. Equipped with safety over-temperature cutout at 105°C (221°F) and nonresettable thermal fuse. 3-core cable power connection.
Cooper Technology offers DHSS ESCHLE approved paraffin Wax Dispenser CRT-MPOT-4.5L. Comprising anodised aluminium bath with black lid in a stoved enamel housing with a polypropylene base. Key Features 75⁰ C Maximum Temperature Inbuilt  Control Thermostat, over-temperature cut-out set at 105⁰ C and thermal fuse An independant heater and control maintains the molten within the drop lever tap Bath capacity 4.5 litres Overall 285 x 275mm height x diameter For 220V a.c single phase supplies. 170W Mounting Bath Paraffin Section Mounting Bath CRT-MBATH-2.5L comprises
 aluminium housing with PTFE coated matt black interior, illuminated on/off rocker and resettable thermal fuse providing over temperature protection. Without lid.